Preparing for Your First Appointment
Take the First Step:
Call, Email or
Complete Digital Intake Forms. 
INTAKE PROCESS SUMMARY:
Call 701.478.7199 or complete the Digital Intake Request Form (Click Here) to begin online registration. If you don't want to use the Digital Intake Forms, download the Paper Intake Form and complete (Click Here).
Schedule with our Intake Specialist. She will call or email you, based on your request.
Get ready. Explore the map and find the office. Make sure you pack any documents and your insurance card the night before your appointment.
What You Need To Know.
Where is the counseling center located? 
---
We are located at 3239 Oak Ridge Loop East, West Fargo, in the Oak Ridge Office Park. Our office is located on a loop road directly behind Faith Hands Daycare and Maximum Performance Gym.
You can enter the business loop from three directions. We recommend the following path (driving West on 32nd Avenue):
Turn left on 6th Street East (at the Oak Ridge sign) and take the first right on Oak Ridge Way (ignore any construction signs), which will bring you to the business loop.
Take the second left turn on Oak Ridge Loop. Our building is at the end of the road.
You may also enter the loop:
Turn between Maximum Performance Gym and Faith Hands, taking the road between into the loop.

Turn left at the corner of 32nd Avenue and 4th Street East, at the stop light, and then take your first left turn. This road will take you to the loop as well.
You will see a large wood sign on the front of the building. Review or print map here.

Where should I park? 
---
Parking is available in front of the building.
You may park on the loop street as well.
The front parking spaces are reserved for customers, so spots will clear at the top of each hour.
What should I bring?
---
Well, that depends on which path you choose to complete the intake process.
If you complete your digital intake form online, you don't need to bring anything except your insurance card. Simply arrive at the time of your appointment. To begin the digital process, CLICK HERE.
Not comfortable with online registration? No problem. If you have access to a printer, please bring your completed paper intake form CLICK HERE and any information you would like to share with your counselor. If using insurance, please remember to bring your insurance card and a picture ID.
We recommend placing these items in your purse, briefcase or backpack the night before your appointment. It is easy to forget the items as the appointment is not part of your usual routine or you may be nervous.
What to expect?
---
Once you enter the building, you'll be in the lobby area. Please be seated and we will be with you at the time of your appointment.
Try to relax and collect your thoughts. Breathe. You're in good hands.
Is the office accessible to everyone?
---
Yes. Our new location is mobility friendly. Front door access. No stairs. Firm flooring. And an ADA compliant bathroom.
Which Payment Option is Right for you?
Pros & Cons of Using Insurance versus Self-Pay:
Accessing insurance benefits may not benefit you. Please make the best decision for you and your family. Also, please discuss any payment concerns with our intake specialist or during your first appointment.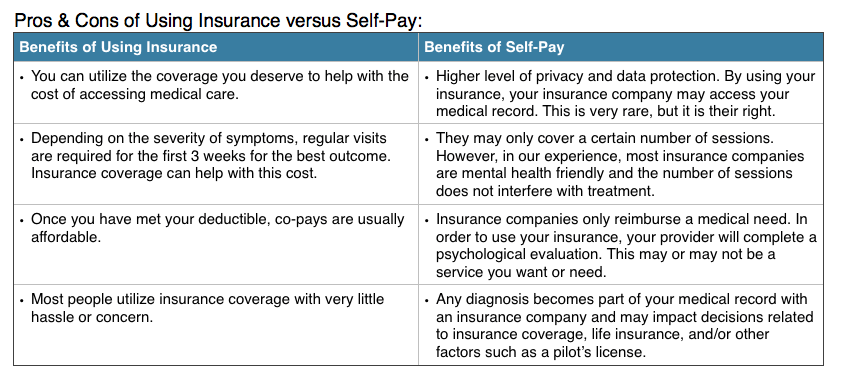 CLICK HERE for insurance options and rates. We accept cash, checks, flex cards, and most credit cards. Fees are collected at the time of your appointment.
Please give 24 hours advance notice when canceling an appointment or a minimum $30.00 fee may apply. Billing policies will be provided at the time of your appointment.