Starting Counseling?
If you have identified that you want or need help.  The next step is finding a professional.  Please read more about Conscious Living Counseling & Education Center's provider, and call if you need additional information about services, insurance options or scheduling.
In the Clinical Counseling Program, specific treatments are offered for panic disorder, generalized anxiety disorder, social anxiety disorder, obsessive rumination, depression, recurrent depression, chronic depression, and seasonal affective disorder.   The goal is recovery.
Kama Jensen, LPCC
Licensed Professional Clinical Counselor
Kama's Approach:
Kama's approach to counseling includes effectively practicing research-based therapies, compassion, and partnering with patients to engage in the treatment process.  Kama began Conscious Living Counseling & Education Center in 2007 with the goal to provide patient-focused care and first-line treatments for anxiety and depression conditions.
She offers unique and personalized treatment plans.  Also, she will look for ways to introduce education, skills development, and awareness training to ensure the greatest success in mental health care.
Experience:
Kama is a Licensed Professional Clinical Counselor (LPCC) with over 13 years of experience. As a masters-level counselor, she has studied the educational, spiritual and scientific research related to mental health.  Her counseling experience includes providing assessment and mental health services in for-profit and non-profit organizations, private practice, and academia.  Additional work history includes serving as the Executive Director of a mental health organization and teaching masters-level counseling courses.
In conjunction with state licensing requirements,  she receives ongoing clinical education to stay current with the issues and ethical guidelines related to providing quality mental health services.
Clinical Focus:
Anxiety Disorders
Depression Disorders
ADHD/ADD & ADHD Executive Function Therapy
Partner Education/Couples & Marriage Counseling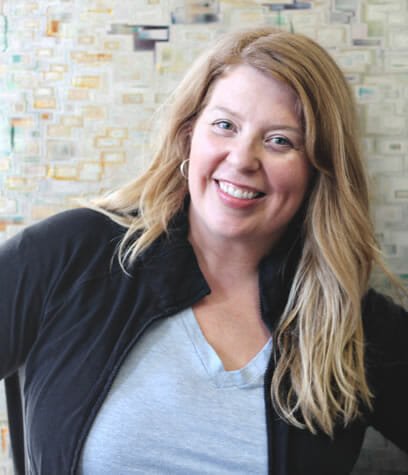 Erin Hagen, LPC

Licensed Professional Counselor
Conscious Living Counseling & Education Center is proud to welcome Erin Hagen to the counseling program. Erin joined the clinic in January 2017 and is currently scheduling same-week sessions.  Erin offers sessions on Tuesdays and Thursdays most weeks.
Erin is an excellent fit for CLCEC as she is engaging, compassionate and enjoys building a strong alliance with clients.  Erin is completing state requirements for clinical licensure and is unable to accept insurance coverage at this time.  Counseling sessions with Erin are $100.00 per session.
Erin's Approach:
Erin enjoys working with individuals during times of critical moments, and periods that call for deeper reflection and awareness.  Erin provides focused attention to the process by which you can produce a strategic plan for creating a life of meaning.   She offers a safe and connected approach to counseling.
Experience:
Erin is an experienced Licensed Professional Counselor (LPC) with a specialty in wellness, healing self-esteem, and complicated relationships.  She has specialized training in neurological perspectives of traumatic loss, the assessment and treatment of PTSD, and healing from interpersonal trauma.  She maintains licensure standards for ongoing education in evidence-based interventions and practice.
Erin has more than seven years of post-masters experience working in the non-profit sector providing both individual and group counseling.  She has provided educational presentations to train advocates and other counselors on the dynamics and healing process of traumatic loss.
Erin is currently pursuing a Ph.D. in the field of counselor education and supervision.
Areas of Focus:
Complicated Relationships & Interpersonal Trauma
Shame Resiliency Practice
Depression Disorders
Wellness and Emotional Healing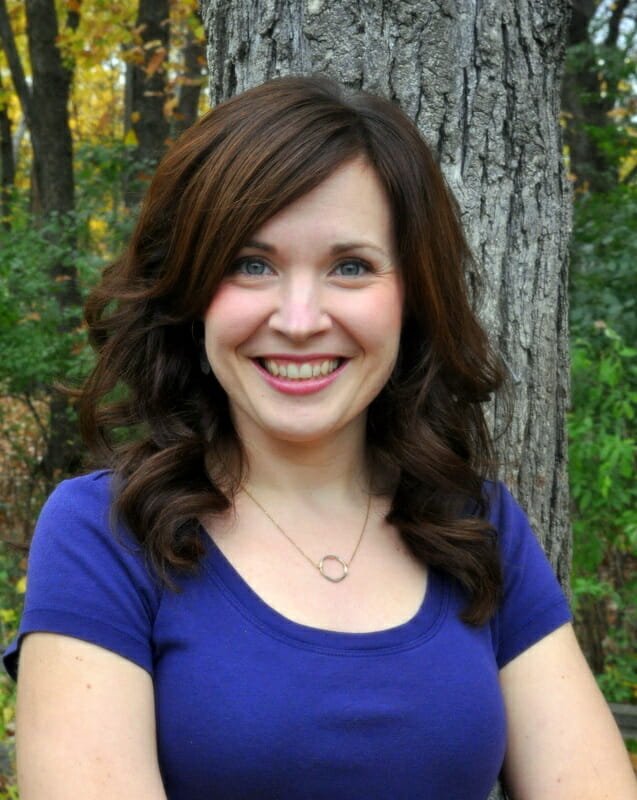 All counselors and therapists are trained in anxiety and depression disorders, however, we recommend scheduling with the best counselor for your particular situation.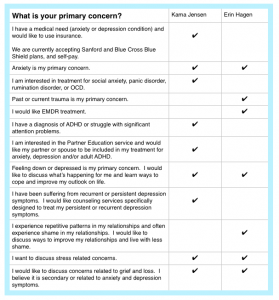 Clinical Counseling is designed to address medical needs related to anxiety and depression.  Non-Clinical Counseling is provided for people looking to explore issues related to personal development or non-medical concerns.  Non-medical concerns are not covered under most insurance plans.